Fire relief efforts

The Minnesota State Cattlemen's Association & Prairie Creek Seed are working to help fill the need to forage and cover crop seed to repair damaged pastures and protect soil that is now bare due to fire damage to crops.
Mail Checks to: Minnesota State Cattlemen's Association
PO Box 12, Maple Plain, MN 55359
Please write: Fire Seed Donation in the check memo.
For Credit Card Donations: Click HERE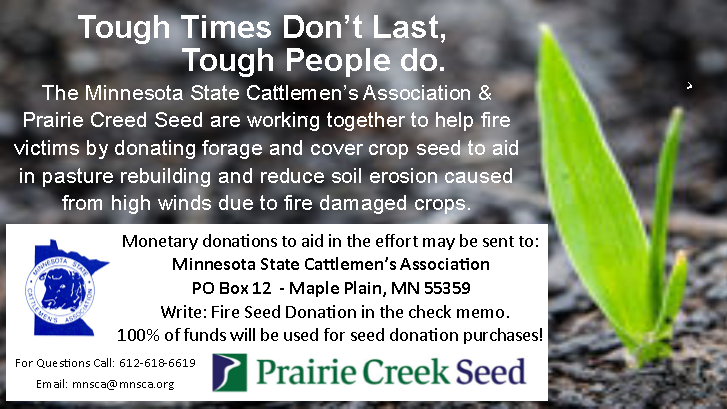 Additional Fire Relief Resources

For those wishing to assist folks currently facing devastating fires in Kansas, Colorado, Oklahoma and Texas, please see below. For additional information about the relief efforts listed below, click HERE.

Kansas
Kansas Livestock Association is organizing hay and fencing material donations for delivery to affected areas in Kansas. To make in-kind donations, call KLA at (785) 273-5115. Cash donations can be made through the Kansas Livestock Foundation (KLF), KLA's charitable arm, by going to www.kla.org/donationform.aspx.
There is a need for milk replacer for calves that have lost their mothers in the wildfire. If you are so inclined to donate a bag, Ashland Feed and Seed said they can take credit card orders over the phone. A bag costs $44.50. Their number is (620) 635-2856. Thank you!
Colorado

There is an immediate need for hay, feed, fencing supplies, individuals willing to provide trucking, etc. for the farmers and ranchers devastated by yesterday's fires. Donations should be taken to CHS Grainland in Haxtun. A loader and scale are both available, if needed. Contact Rick Unrein 970-520-3565 for more information about dropping off donations. Donations can also be dropped off at Justin Price's farm (11222 CR 7 Sedgwick, CO). For more information, please contact: Kent Kokes 970-580-8108, John Michal 970-522-2330, or Justin Price 970-580-6315
For more information on how to donate and aid these producers please visit http://coloradofarmbureau.com/disasterfund/.
Oklahoma
If you would like to donate to this relief effort, you can do so by mail or online. Make checks payable to Oklahoma Cattlemen's Foundation and put "Fire Relief" in the memo line and send to P.O. Box 82395, Oklahoma City, OK 73148. To donate online, visit www.okcattlemen.org.
If you would like to donate hay or trucking services for hay, you can do so by contacting either the Harper County Extension Office at 580-735-2252 or Buffalo Feeders at 580-727-5530 to make arrangements or provide trucking services.
Texas

Three supply points have been established to collect donated hay. Each has been listed below. If you have hay that you can donate and transport to either supply point, please contact the location directly prior to transportation.
Texas A&M AgriLife Extension, who is overseeing the livestock supply points, has told us they now have an ample supply of hay and feed to meet ranchers needs for the next 2-3 weeks. If you're loaded or on the way, you're still more than welcome, but if you're still in the planning stages, please give them a call first.
Fencing supplies are still needed, as are monetary donations to support ranchers in the future. Fencing supplies can go to the AgriLife supply points. Monetary donations can be made to the Texas Dept. of Agriculture STAR Fund.
Supply Point 1
Lipscomb County Show Facility
202 West Main Street,
Lipscomb, Texas
Contact – J.R. Sprague
Office # 806-862-4601 / Cell # 806-202-5288
Supply Point 2
Clyde Carruth Pavilion
301 Bull Barn Drive
Pampa, Texas
Contact – Mike Jeffcoat
Office # 806-669-8033 / Cell # 580-467-0753
Supply Point 3
Hemphill County Livestock
Hackberry Trail
Canadian, Texas 79011
Contact – Andy Holloway, 806-823-9114
Local Affiliates
Local cattlemen affiliates are the foundation of the MN State Cattlemen's Association. Twenty-three local cattlemen organizations exist within the state. These organizations have an important role in identifying issues that could have an impact on the viability of the cattle industry within the state. We encourage anyone who has an interest in the beef industry to become involved in the local organization that is in his or her community.